The latter half of the year tends to bring out the worst in a woman's skin. This can be especially true for those aged 40 and above; their skin is already undergoing a lot of dramatic changes from aging alone. The dehydration caused by colder temperatures and dry air only exacerbates some of the most common problems that ladies in their 40s face: wrinkles appear more prominent and fine lines become more visible, among other issues.
Some of these troubles can only be addressed by making regular visits to your dermatologist's office. However, there's still a lot you can do at home to help your skin out when the temperatures drop and the leaves start to change color. With the right clean skin care products from us here at Organic Cosmetica and a few easy tips and tricks, you can have healthy, glowing skin all year long. Here's how: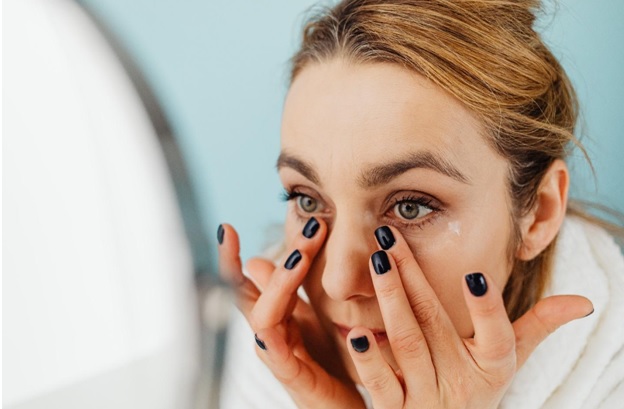 Change up your cleanser
It's inevitable for your skin to start losing its resilience over time. In your 40s, this can happen rather dramatically. Hormonal changes and slower cell reproduction, combined with oxidative stress and cumulative exposure to various harsh elements throughout the years, make it more difficult for your skin to bounce back from damage.
Cleansing is the first and one of the most important steps in your skincare routine. Most facial cleansers, however, contain harsh ingredients that only do more harm than good to women in their 40s and beyond. In your teens and 20s, your skin wouldn't have had any trouble recovering from moisture-stripping alcohols and sulfates. Now that those days are behind you, it's time to leave those cleansers behind as well.
To combat dry skin, pay close attention to your go-to facial cleanser's ingredients list. Toss out anything that contains sodium lauryl sulfate or sodium laureth sulfate, as well as products that make use of denatured alcohol (commonly written out as alcohol denat), isopropyl alcohol, and ethanol. Switch it out for a gentle yet beneficial hydrating cleanser packed with moisture-boosting ingredients, such as glycerin and ceramides.
Supercharge your skin with serums
Dehydration will be your skin's #1 enemy in the frigid months, which is why keeping it moisturized should take precedence above all things. Hydrating from within is a good start; you should aim to consume as much water as possible to make up for what you lose throughout the day. Using a rich moisturizer on your face can help out a lot, too.
Applying a serum before your moisturizer is another excellent way to boost your skin's hydration levels. Serums are more easily absorbed into the skin due to their smaller molecular composition. This allows them to more effectively deliver the active ingredients they contain to where they're needed the most.
Here at Organic Cosmetica, we're huge advocates for clean skin care. The serum selections in our product line are doctor-developed and made with plant-based ingredients that are free of gluten, nut, and soy. They also don't contain any alcohols or synthetic fragrances.
For those aged 40 and beyond, we particularly recommend our Everything Face & Eye Anti-Aging HA Serum. The HA here stands for Hyaluronic Acid, which is well-known for its ability to hold up to a thousand times its weight in water. Our version uses the vegan form of this powerful humectant for unmatched hydration, creating plumper, younger-looking skin.
You may have also heard about retinol being especially good for aging skin. This vitamin A derivative encourages collagen and elastin production, thus minimizing the appearance of fine lines and wrinkles. It's also known for being particularly effective against acne breakouts. However, most products that contain retinol on the market utilize synthetic retinol, which can cause dryness, irritation, or redness. Our Bakuchiol Booster serum is infused with 2.5% pure Bakuchiol, a natural ingredient derived from the babchi plant that has a similar structure to retinol. With it, you get all the benefits of synthetic retinol without the commonly associated side effects. Isn't clean skin care great?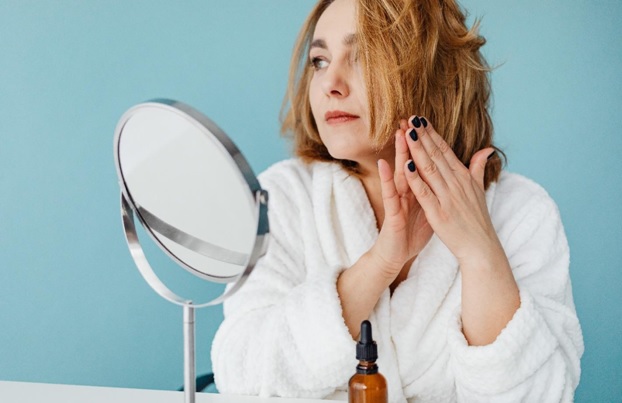 Keep your scalp safe
Your scalp needs just as much love as your face through the changing seasons, too. You may have already noticed how you shed more hair than normal when the thermostat dips below a certain level; your scalp may also feel itchier and dryer. These, too, are caused by the lack of moisture in the air.
Staying out of severe weather helps, but it's not like you can just stay indoors all autumn and winter long. A healthy scalp will be better equipped to fight seasonal hair loss, so do yourself a favor and start eating better. A diet rich in vitamins and minerals such as biotin, zinc, iron, and selenium will surely nourish you from within. Dietary supplements can do a world of good, too.
You can further protect your scalp with our 100% natural Rich Hair Scalp Serum. This doctor-formulated oil- and fragrance-free serum suits all hair types, ages, and genders, and can also be used on the eyebrows and eyelashes. It combines natural extracts from banana, rosemary, acai, and turmeric, among others, with organic vegan glycerin to fortify your scalp and hair.
Look after your locks, too
Dry air inevitably leads to dry hair, sooner or later. In addition to hair fall and loss, you may start to see more hair breakage and split ends.
A non-greasy, organic oil such as our Long Locks Moisturizing Hair Repair Oil should help solve all of your winter hair woes. It's professionally formulated with a carefully thought-out selection of organic oils, including tucuma, jojoba, castor seed, and sunflower. Rich yet pleasantly lightweight, this hair oil serum penetrates the hair strands and acts as a shield to protect it from moisture less. It's also great for taming frizz and repairing damage caused by heat or harsh bleaches.
Using clean skin care and hair care products isn't just good for you—it's good for the environment, too. We here at Organic Cosmetica further this cause by using post-consumer or recyclable packaging as much as possible. We also do our best to utilize carbon-neutral distribution practices. Your purchases help too! We pledge to donate 2% of our annual profits  to The Climate Reality Project, a non-profit organization founded by former US Vice President Al Gore with the intention of tackling climate change. Shop our products now!