Hair loss in women can be a touchy subject. It's more common than most people think and it can have a negative impact on a woman's quality of life once the condition starts to take hold.
When a woman has hair loss, it may have a profound effect on her mental health and her ability to go about her everyday life in a way that is both physically and emotionally fulfilling.
Here at Organic Cosmetica, we understand how important hair is for women, which is why we have formulated a powerful organic hair loss serum that might be just what you need in your beauty routine if you suspect hair loss is an issue.
Taking Care of Your Hair
The hair is a woman's crowning glory and a source of great pride.
It's what most women think of when they think of femininity or romantic allure. Loss of hair is associated with a faster aging process and may make women feel less sexually attractive to their partners and less virtuous overall as they age.
From a physical standpoint, hair loss is certainly a problem, but there is an emotional factor to consider as well. Like many such conditions, the stress of working through hair loss can be just as bad as the condition itself, which would then affect your overall health, quality of life, and can contribute to more hair loss.
It's important to take care of your hair with the right products, just as you would any other part of your body such as your skin or your teeth. This is why we have gone out of our way to create a synthetic-free serum for hair loss that will help women combat this issue in a gentle and natural way.
Factors That May Contribute to Female Pattern Baldness
The best way to fight against conditions like this is to understand them as best as possible. This will enable you to make healthy lifestyle decisions that may make a real difference.
Medical disorders, drugs, and physical or mental stress may all contribute to hair loss in women. Feminine pattern baldness can be genetic, however studies show that lifestyle plays a crucial role, as does diet. It may begin at any point after puberty, but menopause is when most women become aware of their hair thinning.
Excessively hot showers and a poor diet are two big factors you want to avoid as best as possible. A lack of proper sleep may also be associated with hair loss in women.
Cornrows and tight braids are two examples of self-inflicted hair loss. Damage and breakage may be caused by colors, chemical treatments, poor brushes, blow dryers, and flat irons as well. When using hair styling equipment or any kind of treatments, it's best to follow the instructions to the letter and practice everything in moderation.
This includes doing things like combing the hair too much or rubbing it vigorously with a towel while it's damp. The good news is that hair loss like this can potentially be mitigated or even reversed using a 100% natural, professional-grade, drug-free hair loss serum such as the kind we will discuss below.
For healthier hair, go organic.
While many hair loss serums claim to be powerful restorative remedies, only a few genuinely live up to their claims. Rich Hair Scalp Serum – Natural Hair Loss Serum (Oil-Free) differs from wash-out shampoos in that it works by permeating the scalp, where the active ingredients may then perform a variety of functions according to the formulation.
Since Organic Cosmetica is a big admirer of lightweight serums, we decided to formulate this hair loss serum using solely plant-based components that are known to stimulate the blood flow in the scalp. Your sole task here will be to carefully apply this serum to your scalp in accordance with the included instructions and to do your best to follow them.
Use it nightly, preferably after washing and drying your hair, for optimum results. The outcomes will not be adequate if you don't utilize it regularly. Consistent usage for at least three months is recommended for better results.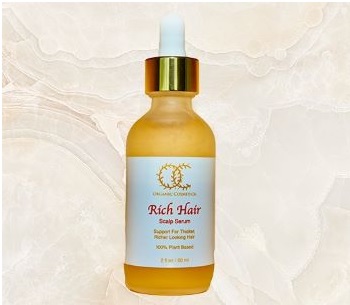 Several active components work together in this potent serum to enhance your hair's appearance and texture. Euterpe oleracea (Acai) helps strengthen hair, while rosemary extract decreases inflammation on the scalp and boosts blood flow, all of which contribute to the appearance of thicker, fuller hair.
Our Rich Hair Scalp Serum does more than just prevent further loss and stimulate new growth; it also helps regulate and soothe the scalp, making it an excellent choice for anybody struggling with flaking.
The Importance of Hair Care for Women
Proper hair care is essential for maintaining not just a presentable look but also proper hair health. When we take care of our hair and scalp, we can feel and look our best.
If your hair is thinning, you should only use organic products on it and avoid the synthetic ones that are full of chemicals.
Your hair is vital to your general health and well-being since it is one of the first elements that people may notice about you. Someone's personality and sense of self-worth may be gleaned from their hair's state of health and vitality. Having healthy hair and a scalp may boost your self-esteem and the perceptions people have of you.
Everyone wants to feel good about themselves, and one major factor contributing to that feeling is their hair. Your self-esteem may be restored with the help of an organic hair serum, which can also improve your overall health and make you more content with your physical appearance.
Organic Cosmetica was established with the single intention of promoting skin and hair health via the use of organic, plant-based cosmetics. Hundreds of individuals have benefited from our oil-free hair and skin serums and two-in-one face and eye serums, which have been tried and tested by satisfied clients. Take a look through our online store to view our selection of hair care and other natural anti-aging remedies!