Serums designed specifically for the face are one of the most effective ways to supplement your regular skincare regimen.
Extensive studies have shown that synthetic aromatic compounds often cause irritation, especially for those with sensitive skin. These aromatic components may be found in a wide variety of face serums and other skincare products, which is why it's important to look for products with more natural ingredients if you want to avoid such irritants.
Sometimes, in the midst of our busy lives, we forget to give our skin the attention it needs to keep looking young and healthy. Even with thorough washing, toning, and moisturizing, we just don't get the results we want, so it's worth investing in facial serums.
There is always room for improvement when it comes to skincare, right? This is where a high-quality fragrance-free face serum could make a real impact in your everyday skincare routine.
Still, it's not always easy to put your finger on precisely why scent is such an issue for the skin, so we'll go into the topic in this article.
Natural vs Synthetic Aromatic Compounds
It's easy to see the appeal of a pleasantly scented moisturizer as much as the next person, since these scents often add to the experience. Many people even base their purchasing decisions on what a certain product will smell like depending on their preferences.
However, it's far more important to invest in a quality product with an effective formula versus one that simply smells nice. The alphabet soup of ingredients stated on most cosmetic products masks the fact that just because something might smell nice doesn't necessarily mean it's good for your skin.
Most aromatic compounds work through a volatile reaction to release their aroma. In most cases, the skin becomes sensitized as a result of this normal response. This is not just for individuals with sensitive or easily irritated skin, but for those of all skin tones and kinds. It is for this reason that many people have allergic reactions to strong perfumes.
Rather than selecting a synthetic product with an artificial or overly potent scent, more people are switching to natural products with better formulations. These products tend to have a more muted fragrance, or none at all. While this might be a turn off for some, the benefits far outweigh the negatives.
First of all, the aroma of a natural product is less likely to irritate you or other people around you. More importantly however is what's going on in the background. A fragrance-free face serum is much less likely to contain harmful ingredients. Most naturally formulated products with high-quality ingredients tend to have gentler, more pleasant scents – and these are the kinds of items you want in your beauty regimen if you really want the best for your skin!
So, how come so many products are scented?
To answer that question, the majority of consumers choose to purchase cosmetics and hygiene items that leave them with a pleasant aroma. Cosmetics manufacturers recognize the value of an appealing aroma and so they may choose to bolster the fragrance of their products by any means necessary, and that includes the use of artificial compounds.
They have come to understand the importance of smell to consumers, both in terms of purchasing choices and overall satisfaction with the product once it is in the house. But as a consumer you have to ask yourself is it really worth it? The end goal when it comes to skincare is making sure your skin is as healthy as possible – and if we're being honest here, pleasant aromas are really only a small part of the picture!
This is why it is best to always use fragrance-free face serums.
Fragrance-free serums are a lot less likely to bother your skin or cause any kind of reaction. These kinds of facial serums use natural, organic, and higher quality components. What they lack in fragrance they make up for in effectiveness.
Remember that your sense of smell isn't always reliable, as many synthetic ingredients are designed in labs specifically to target our olfactory receptors and therefore cause a certain reaction. Fragrance free is usually the better way to go when it comes to serums simply because these kinds of products are supposed to be for helping your skin. If your facial serum smells like candy or a bouquet of flowers it might be a good sign that you need to make a switch.
You may check the label to be sure, but if you want to have the best of both worlds, you can simply shop right here on our website and get a fragrance-free face serum that is loaded with anti-aging compounds to make your skin look younger and more radiant.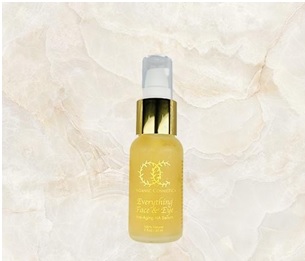 Sebum-overproducing skin types would benefit greatly from our Everywhere Face & Eye Anti-Aging HA Serum. This powerful serum may be used for a variety of purposes, and it is loaded with collagen-boosting compounds as well as antioxidants.
It's also highly pleasant and offers a rapid plumping impact, as well as enduring benefits that transform your skin in the long term. All of our hair and skin care items are hypoallergenic, and safe for those with sensitive skin. They are vegan and cruelty-free, and they include no synthetic fragrances, sulfates, silicones, or phthalates.
Giving up your favorite scented items all at once might be challenging. However, the upsides of doing so are well worth it!
Who Should Stay Away from Skincare Products with Fragrances?
Avoid using any products with fragrances in them if they trigger an allergic reaction in you, whether such fragrances are natural or synthetic. If you think you have a fragrance allergy, it's best to see an allergist so they can pinpoint the offending compound so that you can find the best possible skincare solutions that work for you!
Searching for fragrance-free face serums to treat your sensitive or acne-prone skin? Take a look through our selection of products right here in our store, or learn more about how our all-natural, plant-based skincare products may reinvigorate your current routine.